Eating nutritious meals doesn't have to be time consuming , complicated or expensive. We can tailor your healthy eating plans with healthy, time saving and tasty recipes.
You can choose one, two or all of the following options. Or, ask us to tailor a plan for your needs and budget.
Supermarket Buddy
Get assistance with our supermarket shopping buddy and learn about the products to choose when you are grocery shopping. Learn how to read and understand food labels so that you can be better informed about what you are eating . Trim down your waist line by busting through the misleading advertising on common packaging that lead you to make unhealthy choices. Having the right foods in your shopping trolley is the crucial first step to achieving healthy eating plans.
Meal Planning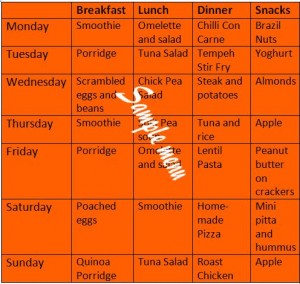 Discover how planning a weekly menu for you or your entire family can save you time and money. Take the hassle out of worrying about what you are going to have every evening because you will have a tailored meal plan. Save time and money and improve your health and energy levels. Book now!
Dietary Feedback
Get valuable feedback on how you can make changes to improve your health, increase energy, reduce stress and lose weight. This involves keeping a food diary for a week and noting down everything you eat and drink. As a result you get feedback and suggestions on how and what you need to do to significantly improve your eating.
Book your healthy eating consultation
Or, if you would prefer an option that is not shown here, get in touch and we can tailor a service to suit your needs.
All Active clients that train with us at least once per week get dietary advice and meal planning as part of their package with us. Find out more!