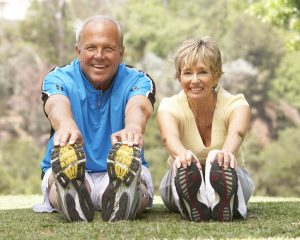 It's never too late to begin an exercise programme
If you keep active, there are many benefits that can be enjoyed in your retirement.
The fact that people's fitness declines with age is due to a reduction of activity and not necessarily due to the ageing process.
Benefits of exercise
Exercise improves the skin healing process by up to 25%.
Getting fitter improves quality of life by improving physical function and mental function.
Developing good balance helps prevents falls and hence gives you more independence and freedom.
Fitness helps you prevent future problems with climbing stairs and walking.
Being active can help keep weight under control.
Flexibility  and balance training can decrease need for hip and knee replacements.
Reduce risk of disease
Exercise decreases the chances of getting dementia and Alzheimer's.
Exercise and healthy eating can extend life by reducing blood pressure and keeping diabetes under control as well as preventing it.
Healthy eating reduces tooth loss.
We can help you gain strength, balance and flexibility. Get in touch to book your consultation.