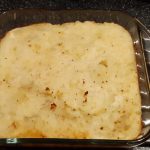 Vegetarian Shepherd's Pie
Ingredients
Mashed potatoes:
680 grams potatoes, peeled and chopped
Milk for mashing (can use any vegan milk)
pepper
Filling:
1 tablespoon Olive oil
1 onion chopped
1 carrot, finely chopped
2 cloves garlic finely chopped
1 tablespoon of tomato paste
Pinch of salt and pepper
140 grams uncooked brown lentils
rosemary and thyme
400ml of vegetabel stock
Optiona: add any frozen veg such as peas or corn
Place potatoes in boiling water until covered. Add a pinch of salt if desired. Boil for 20 minute till soft.
Strain and mash adding milk of choice till creamy. Season and set aside.
While potatoes are cooking preheat oven to 200c and heat oil in a large saucepan and saute onions and garlic until caramelised. Then add the tomato paste, lentils, stock and herbs and bring to the boil. Then allow to simmer for 15 minutes.
Add the chopped carrot and cook for further 5 minute allowing any extra liquid to evaporate. leave lid off if necessary.
Add frozen vegetables if using and cook for 5 minutes. Turn off heat.
Place mixture into a baking dish and spoon the potato mixture over the top ensuring the filling is covered.
Place in centre of oven and cook for 30 minutes.
Notes:
You can use cauliflower for ther mash instead of potatoes.
Freezes well
This recipe is a cheap way to feed a family by using lentils instead of beef. Lentils are a very versatile and low cost food but may not be suited to everyone's dietary needs.  Find out why some types of food help your body turn its good genes on, but others may have a negative impact on your health.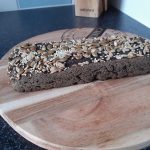 Flaxseed bread
Ingredients 
2 1/3 cups of flaxseed meal (~ 2/3 - 3/4 cup whole flaxseeds to get 1 cup flaxseed meal)
3/4 cup + 2 Tbsp. water
1 tsp. baking powder
1 tsp. baking soda
1 tsp. apple cider vinegar
1/2 tsp. salt
Pumpkin seeds, sunflower seeds or sesame seeds for topping
Preheat the oven to 425°F/ 220°C.
Grind the flaxseeds into very fine flour.
In a large mixing bowl, mix together the flaxseed meal, baking powder, baking soda, and salt. Add the apple cider vinegar and water, and stir until the flaxseed meal becomes sticky and holds together in a lump, for about 30 seconds. Then use your hands to roughly form the dough into a loaf shape. (Don't over-knead the dough. Handle it as little as possible). The loaf should have a nice smooth surface.
Place the loaf into a greased (or parchment paper-lined) loaf pan. You can also use a baking sheet lined with a piece of parchment paper as the loaf holds its shape.
Mist with water and sprinkle some seeds on top (I use a mix of pumpkin seeds, sesame seeds, and sunflower seeds). Gently press down on the seeds with your palm to make them stick better.
Cover the loaf and let it rest for a few minutes so the flaxseed meal absorbs all the water and becomes an integral whole.
Cover bread with foil and bake the bread at 415°F/ 215°C for 60 minutes.
Remove the bread from the oven and let it cool inside the loaf pan for 10 minutes. Transfer the bread on a cooling rack, and let it cool completely before slicing.
It can be stored for a few days in an airtight container or frozen.
We all need different foods to be well. Discover what foods your body needs.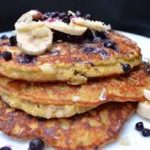 Banana protein pancakes
Ingredients (serves 2)
1 cup of rolled oats, ground. Can also use rice flour.
2 ripe bananas
2 eggs
2 scoops of protein powder
dash of cinnamon
1/2 cup of blueberries
Oil or spray for cooking
Dash of baking powder
Place oats in bowl with the cinnamon and the protein powder. Mix.
In a separate bowl mash banana and mix with 2 whisked eggs.
Add banana mixture to oat mix. Stir well. Add a little milk if too dry.
Add a dash of baking powder. Mix well.
Heat pan with a little oil. Place generous size scoops of mix into pan and top with a few blueberries. Turn over when brown.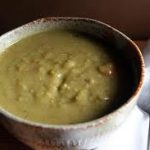 Split pea soup
Ingredients (serves 6)
2 cups of split peas
6-8 cups of vegetable stock (less stock will make it a thicker soup)
1 onion chopped
1 carrot chopped
Salt and pepper
Sunflower seeds or pumpkin seeds (optional)
Place split peas, chopped onion, carrot, salt and pepper in a large saucepan.
Make stock by boiling water and mixing it with vegetable stock cube. Add stock to pan and mix.
Heat to boiling point and then turn down the heat and cover with lid. You want the soup to simmer slowly on low heat for 1 and a half hours. Stir occasionally to ensure not drying up and add boiling water if soup too thick.
Soup is ready when the peas are mushy.
Remove from heat and use a stick blender to puree soup or if you prefer leave it chunky.
Top with pumpkin or sunflower seeds.
Serve with a salad and enjoy.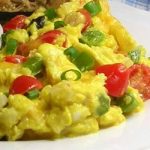 Scrambled eggs with vegetables
Ingredients (serves 1)
2 eggs
Any vegetables you like including tomatoes, peppers, onions or frozen veg mix
Salt and pepper
Butter for cooking
Whisk eggs. Add salt and pepper.
If using frozen vegetables, fry these first in the butter for 4-5 minutes.
Add the eggs, keeping stirring until ready. If using fresh veggies cook them for 2 minutes then add the eggs.
Serve on bed of spinach.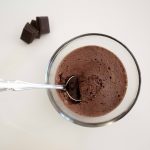 Chocolate mousse
Ingredients (serves 2)
1 ripe Avocado
1/4 cup Honey
1/4 cup raw cacao powder
Place all ingredients in a food processor and blend till smooth.
Refrigerate till cold and serve.