Healthy breakfast recipes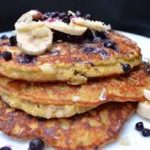 Banana protein pancakes
Ingredients (serves 2)
1 cup of rolled oats, ground. Can also use rice flour.
2 ripe bananas
2 eggs
2 scoops of protein powder
dash of cinnamon
1/2 cup of blueberries
Oil or spray for cooking
Dash of baking powder
Place oats in bowl with the cinnamon and the protein powder. Mix.
In a separate bowl mash banana and mix with 2 whisked eggs.
Add banana mixture to oat mix. Stir well. Add a little milk if too dry.
Add a dash of baking powder. Mix well.
Heat pan with a little oil. Place generous size scoops of mix into pan and top with a few blueberries. Turn over when brown.
Protein smoothie
Ingredients
Banana
Protein powder -2 scoops
Kefir yoghurt (but you can use any type as long as unsweetened)
Milk
Cottage cheese (yes it gives it a creamy texture and you won't really taste it)
Kale (in the pre-prepared packs)
Chia seeds 1/2 teaspoon
Blueberries
Combine it all together in a blender.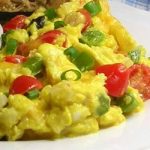 Scrambled eggs with vegetables
Ingredients (serves 1)
2 eggs
Any vegetables you like including tomatoes, peppers, onions or frozen veg mix
Salt and pepper
Butter for cooking
Whisk eggs. Add salt and pepper.
If using frozen vegetables, fry these first in the butter for 4-5 minutes.
Add the eggs, keeping stirring until ready. If using fresh veggies cook them for 2 minutes then add the eggs.
Serve on bed of spinach.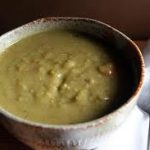 Split pea soup
Ingredients (serves 6)
2 cups of split peas
6-8 cups of vegetable stock (less stock will make it a thicker soup)
1 onion chopped
1 carrot chopped
Salt and pepper
Sunflower seeds or pumpkin seeds (optional)
Place split peas, chopped onion, carrot, salt and pepper in a large saucepan.
Make stock by boiling water and mixing it with vegetable stock cube. Add stock to pan and mix.
Heat to boiling point and then turn down the heat and cover with lid. You want the soup to simmer slowly on low heat for 1 and a half hours. Stir occasionally to ensure not drying up and add boiling water if soup too thick.
Soup is ready when the peas are mushy.
Remove from heat and use a stick blender to puree soup or if you prefer leave it chunky.
Top with pumpkin or sunflower seeds.
Serve with a salad and enjoy.
Soup can be frozen for use later.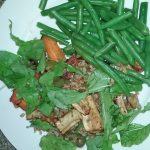 Warm Farro salad
Ingredients
1 1/2 cups Farro (you can also use brown rice or couscous)
You can use any vegetables that you like to roast. I used Carrots (2-3), Parsnips (2) and Green Peppers (2)
Garlic cloves 3-5 garlic cloves (depending on how much garlic you like)
Handful of Rocket leaves or spinach
Olive oil
Balsamic
Salt and pepper
Preheat oven to 200c.
Prepare the vegetables for roasting by peeling them and cutting them into wedges.
Place the carrots and parsnips onto the baking tray with the cloves of garlic and drizzle with olive oil, Balsamic Vinegar and then add salt and Pepper. Give it a mix so that all the vegetables are mixed with the Oil and Balsamic.
Bake for 10-15 minutes then add the green peppers and bake for a further 20 minutes ensuring that they do not burn.
Whilst the vegetables are cooking place 4 1/2 cups of water in a pan and bring to the boil. Add the farro and simmer for 30 minutes until cooked. Drain the water out and place farro back in pan.
Combine the roast vegetables with the farro.
Toss in some spinach or rocket leaves and serve with steamed veggies.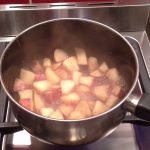 Stewed apple
Ingredients
1 large apple or 2 small
½ teaspoon mixed spice
½ teaspoon ground cloves
1 teaspoon cacao powder (optional)
Berries (optional)
Chop apple into small segments. I prefer to leave the skin on as it is more nutritious but you can peel it first if you prefer.
Place into small saucepan with 3 tablespoons of water and the spices and mix.
Gently bring to boil then turn down the heat to a simmer. Cook till apple is soft, this might take 10 minutes. Ensure it doesn't go dry and add more water if required.
Transfer to a bowl and serve with some berries and raw cacao powder.
For other healthy recipes visit the healthy food guide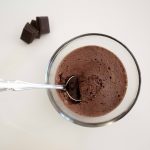 Chocolate mousse
Ingredients (serves 2)
1 ripe Avocado
1/4 cup Honey
1/4 cup raw cacao powder
Place all ingredients in a food processor and blend till smooth.
Refrigerate till cold and serve.