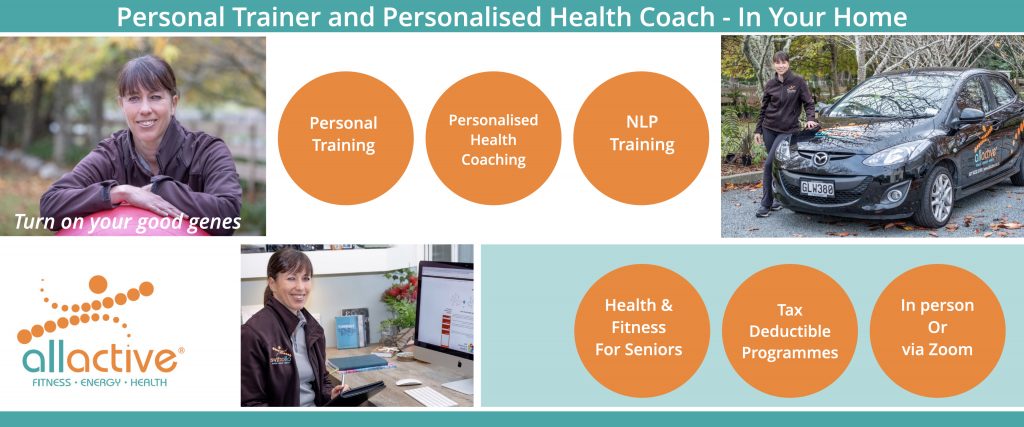 Personal Trainer and Coach- regain your fitness, energy and health
If you have tried a plethora of diets and exercise to no avail, we can help. Because you may have been doing all the wrong things for your body despite your consistent efforts. Because our personal trainers understand that you are unique, so what delivers results for your friends might not be effective for your body.
All Active trainers offer a FREE no obligation consultation so you can discover how you can get help with your specific needs. Improve your fitness, reduce stress and lose weight and as a result become healthier and more energetic. This is now possible using our personalised health system because one size does not fit all.
All Active Personal Trainer and Coach comes to you
Experts from All Active can visit you in the privacy of your own home anywhere in the Hutt Valley so making it more convenient for you (excluding Eastbourne and Wainuiomata).
We offer:
√ Personalised Health       √ Personal Training      √ Stress Reduction   √ NLP Coaching   √ Fitness for seniors
So you can benefit from more than just fitness programmes.
All your well-being needs under one roof  making it more convenient for you. Coaching is available via Zoom if you are not located in the Hutt Valley.
Have Confidence
√ Our trainers are REPS registered (Register of Exercise Professional).
√ Be assured with our 90 day satisfaction guarantee.
√ All Active have been nominated in a few awards.
√ Our clients have experienced incredible success with us. Read about what they have to say.
Book Your Free Consultation